SINDHI ASSOCIATION OF NORTH AMERICA (CANADA)
GTA CHAPTER
ANNUAL GET- TOGETHER-2004
After many months of preparation and planning, the day arrived for which we all were anxiously waiting for. It was an exciting and fruitful experience to see the results of the hard work and efforts that were put into the organization of this grand event. We are proud of teamwork of SANA (Canada)'s Executive Council, the cooperation of all the sponsors, the love and commitment of all participants who spared their time and participated with pride. The golden lights and silver chandeliers of Maple banquet hall (Mississauga) were shining bright, as more than five hundred guests poured in. It was truly a thrilling experience to be part of the largest of most successful event in SANA history. The May 1st get-together was also blessed with the Eid Millad u Nabi, which was just icing on the cake.The program started with the recitation of Holy Quran by Saeen Saleem Shaikh. Brother Ismail Daudpoto and Adi Khalida Kazi offered Naat-e-Maqbool as a nazarana-y-aqeedat to Hazarat Muhammad (PBUH). Fariha Riaz Ansari (V.P Women's), Unaizah Hussain (Member Executive council, Shakeel Shaikh, Zeeshan Gahothi and Uzma Imran conducted the program. Abdul Rahim Khatri (V.P) and Riaz Khuhro (Treasurer) nicely handled the registration work for membership as it increased significantly. Adi Unaizah Hussain and her team also worked very hard to keep order in the hall and escorted all the guests to their seats.
General Secretary of SANA (Canada), Sarfraz Gahothi in his speech, welcomed all the members and guests and thanked them for their participation and support. He highlighted the efforts of the Executive Council to well organize the event and change the old-fashioned one-dish party to a new approach. He also thanked all the sponsors for their contribution and support to make the program successful.
Sarfaraz Gahothi
Sarfraz Gahothi pointed out the presence of founding members in the program especially Saeen Anwar Memon, Saeen Hyder Memon and reminded audience of their efforts and work done by them in the founding of SANA. He mentioned the involvement of Saeen Anwar Memon who helped to create SANA Logo when the organization was established in early 80's. He also thanked Dr. Rafi Mustafa of IDRF for his support for SANA and admired his love for Sindh and the Sindhi community. Dr. Rafi Mustafa is actively involved in the community development projects in the interior of Sindh through local NGO's where funds are being provided by IDRF on different schemes with the help of CIDA.General Secretary also emphasized the importance of Sindhi unity in overseas and back home as the time for Sindhi unity is in need more then ever due to new challenges every day. He said Sindhi people are deprived of their rights and suffering morally and economically and only the unity of the Sindhi people is the last choice to save Sindh and the Sindhi cause. He appealed all the well wishers of mother Sindh to come forward and unite all over the globe and work for the Sindh and Sindhi people and forget their differences for the greater cause.
General Secretary also highlighted the major progress of present
executive council in compiling and collecting information for the Sindhi contact directory, Newsletter "MALIR", SANA (Canada) Website, Bank Account, Fund Raising and Control, Chapter Registration, Regularization, and Formation.Other highlights consisted of Strengthening of Executive Council, and its regular meetings to get members input and active involvement to achieve objectives.
Dr. Mashhood Qazi, President SANA (Canada) started his speech with the beautiful verses of Shah Bhittai which gave the impression and feeling of love, compassion, tolerances and patriotic love to Sindh. Dr. Qazi briefly highlighted the objectives of SANA and the achievements that the present Executive Council has attained.
Dr. Mashood Kazi
Dr. Qazi described the 3 key objectives of SANA (Canada) and reported the progress to the audience. 1) Representation of Sindhi community in local Pakistani and Canadian mainstream circles. 2) Initiatives taken for the welfare of the Sindhi community in Canada and 3) Initiatives for needy Sindhi's living in motherland Sindh.
Dr. Qazi mentioned that on 1st objective, we are progressing very
well. We have given a respectable exposure of Sindhi Community to the local media such as newspapers, radio and TV. The articles and news items about our activities now do appear in the media. We have also represented Sindhi community in various social community programs and people have started sensing Sindhi's as a strong community. We have also maintained very close relations with Pakistan Embassy and as a result SANA is being officially
invited for programs such as Pakistan Day Celebrations,Independence Day Parades, etc. We have also had an opportunity to meet with the Canadian Prime Minister Mr. Paul Martin as representatives of the Sindhi community. With these and many other achievements, we have now started effectively representing Sindhi community in Canada.
On the 2nd objective, Dr Qazi stated that we are in process of
discussion with various insurance companies to get a group status for SANA. With that SANA members will be able to get auto and home insurance policies with great discounted rates. He also announced a special training program on 'Effective Communication' for Sindhi's. This training program will be conducted in collaboration with Indus Systems who have very graciously agreed to provide space and expertise. Dr. Qazi expressed gratitude
for Dr. Rafi Mustafa, President of Indus Systems, for his unprecedented support. The training will help new comers to improve their communication skills, which in turn help them for better placement in the Canadian job market. The program will be free of cost with certain conditions. The arrangements
are on their way to start this program in September 2004.
On the 3rd objective, Dr. Mashhood Qazi very proudly announced that SANA (Canada) took the lead in helping needy people of Sindh by arranging a donation of medical aid in the shape of equipment worth CDN $275,000.00 The equipments were arranged with the help of the Consul General of Pakistan, Mr. Ghalib Iqbal, Mr. Dil Mohammad, a well-known Pakistani community figure, donated these equipments for rural hospitals in Sindh. The aid includes Mechanical/Electrical and Intensive Care Beds, ECG machines,
Auto-Clave machines, and Stretchers. A container carrying these
equipments was dispatched on April 17th, 2004 from London, Ontario where Mr. Kassim Ebrahim of IDRF, Mr. Dil Mohammad, Mashhood Qazi and Sarfraz Gahothi personally helped in loading the container. The transportation charges worth CDN $10,000.00 were being paid with the contribution of IDRF and
SANA (75% IDRF, 25% SANA). Dr Qazi paid special tribute to Mr. Ghalib Iqbal, Mr. Dil Mohammad, and Dr. Rafi Mustafa for their help and support in making this project a success. These equipments have been sent for Rural Health Center in Bobuk, Taluka Hospital in Sehwan, Liaquat Medical University Hospital, Jamshoro; and People Medical College and Hospital, Nawabshah.
Dr. Qazi also informed about another project, which was presented by the President and General Secretary of SANA (Canada) in the meeting of the Program Committee of IDRF. The initial concept of project for a community outreach program in the health sector is highly appreciated by IDRF and the project is under a review process. By the approval and implementation of this project, the interior of the Sindh populous will greatly benefit.
At the end he emphasized on community unity and requested members to come forward to help SANA to achieve its aims and objectives. He stressed a strong need for efforts to help those who are in need. He paid special thanks to the members of SANA Executive Council for hard work, trust, support and the teamwork because of which these initiatives were become possible. He also expressed gratitude for volunteers and sponsors for their support and help in making this function a success. He then initiated a fund raising campaign in association with IDRF to raise money for IDRF
interior Sindh projects. Members donated CDN $4300.00 and the donation was presented to Dr. Rafi Mustafa of IDRF.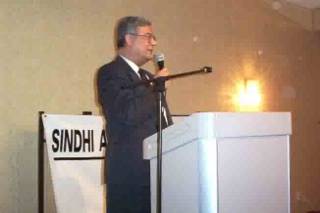 Rafi Mustafa
Dr. Rafi Mustafa, President of The International development and
Relief Foundation (IDRF) addressed audience in Sindhi and provided information about what IDRF is doing especially in Sindh with the collaboration of SANA (Canada) and other local NGO's. In this regard he emphasize the efforts and hard work of present SANA Executive Council and especially the efforts made by Dr. Mashhood Qazi and Sarfraz Gahothi to effectively utilize the SANA platform for the welfare of the Sindhi people. He also emphasized on unity and asked the members to work with the present council to help the poor and needy people of Sindh. He assured his help and guidance to SANA for the present and future projects and offered IDRF expertise and resources for the community.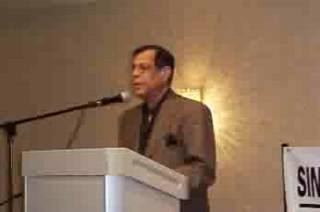 Anwar Memon
Mr. Anwar Memon, President of SOIL PROBE and founder member of SANA, appreciated the efforts of present SANA leadership to put association in the right direction and strengthening of the Sindhi community. He also extended his support and guidance for the Sindhi community and present Council. He donated CDN $2500.00 for SANA charity projects for interior of Sindh started with the help of IDRF. He further announced two ENTRANCE SCHOLORSHIPS of CDN $1000.00 each for qualified outstanding Sindhi students going to university in the current year 2004-2005. These scholarships will be awarded to Sindhi students of SANA (USA & CANADA) members on merit only. Audience welcomed these announcements with a big round of applause. The application forms will be available shortly.Mr. Hyder Memon, a prominent figure of the Sindhi community showed his satisfaction with the performance of the present Executive Council and expressed his feelings about the better organization of the programs and active involvement of the community for the of help poor and needy.
Mr. Fazal Patoli, Regional Secretary of Canada was requested to say few words but due to his recent surgery he was unable to come on the podium. He endorsed his support and thanked the community. SANA members appreciated his presence in the program in spite of his health. We also thanked Saeen Patoli Saheb for his continued support and guidance and his years of effort to organize and unite Sindhi community on the SANA platform.
Unaizah Hussain and Moazam Shah announced the endowment of land to construct an eye hospital in Sehwan Shareef on behalf of SANA (Canada).
unaizah
The hospital will be built for poor people and treatment will be provided free of cost. We thank Adi Unaizah and Saeen Moazam for their generous donation and hope that this project will be materialized very soon.
At the end of the first session Sarfraz Gahothi thanked the
participants, sponsors, volunteers and executive council members for organizing such a wonderful evening. He also expressed his strong desire to organize programs on Sindhi days such as Shah Latif Day, Sachal Sarmast as well Eid and Holy. He requested the community for their full participation and involvement in future community programs.
Session 2 - Kids talent show & Raffle
To familiarize our young kids with our culture and history, a Kids Talent Show was held as always. This time as usual the task was organized and conducted by Fariha Riaz Ansari Vice President (Women's). Kids participated interestingly in the events such as painting; poetry, religious recitation, essay writing, story telling, and prizes were given to the winners.
To make the program more interesting, a draw introduced in the
get-together. Unaizah Hussain, member Executive Council organized this part and a DVD Player was awarded to winner Moazam Shah. Zeeshan Gahothi and Uzma Imran were the hosts for these events. Mr. Amir Shamsi of Universal Promotion, Saeen Abdul Rahman Shaikh and Saeen Maqsood Soomro of Clarica Financial provided the gifts and prizes.
Dinner
The food was delicious and for once the members enjoyed not having to bring food from home. In this regard contribution of sponsors and members as well service rendered by the hall management are very much appreciated.
..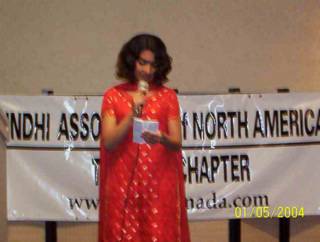 ..

..
..
..

..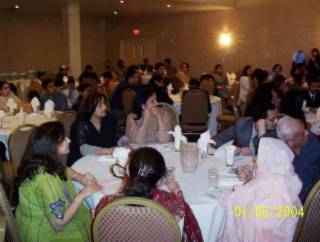 ..

..
Program Sponsors:
The program sponsored by the following individuals and companies.
Mr. Anwar Memon – Soil Probe Ltd.
Mr. Pervez Tagari & Sarfraz Gahothi – Royal Lepage Homeward
Mr. Nasir Mehmood - Clarica Financials
Mr. Harvinder Bhogal – ReMax
Mr. Mazhar Talpur - Tek Buzz
Mr. Maqsood Soomro – Clarica Financial
Mr. Abdul Rahman Shaikh
Minfare Travel Inc., Universal Promotions &
SANA (CANADA) Executive Council
LONG LIVE SINDH,
Sarfraz Gahothi,
General Secretary,
SANA (Canada) GTA Chapter